Evidence from Dr. Dublin's work helps patients and doctors make the best care choices in pregnancy
Sascha Dublin, MD, PhD, is a senior investigator at Kaiser Permanente Washington Health Research Institute. Her research program includes studies to improve women's health and maternal and child health care. In addition, she is a general internal medicine physician with the Washington Permanente Medical Group and an affiliate associate professor of epidemiology at the University of Washington.
What sparked your interest in research?
I was a Renaissance Studies major at Brown University, which helped me build strong skills in reading texts, writing about them, and organizing an argument effectively. In search of a summer job that would use my writing skills, I landed in the Rhode Island Department of Health, where I discovered and fell in love with the field of epidemiology. This motivated me to pursue a joint MD/PhD degree at the University of Washington.
In graduate school, I did a study showing that women who take antidepressants don't have a higher risk of ovarian cancer, as earlier findings suggested they might. At that point, I realized that studies on medication safety could generate evidence that might be critical for physicians and patients.
Also during my training, I learned that traditional clinical trials usually don't include participants who are pregnant. That means we don't know if many medications are safe during pregnancy. When I was pregnant and prescribed medications, I worried about whether it was safe to take them.
I was not alone. Every year, millions of U.S. women take at least one medication during pregnancy. Many others refuse medications they might need because they fear it could be unsafe.
As an epidemiologist, I use large datasets, describing real people's experiences (captured in electronic health records) to study medication safety. I believe we have an ethical obligation to learn from the experiences of these individuals to generate evidence that can guide our decision-making.
---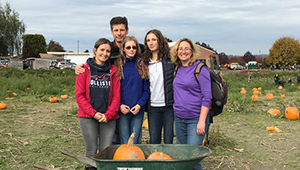 Dr. Sascha Dublin, her husband, their two daughters, and au pair visit the pumpkin patch.
---
Why is Kaiser Permanente a unique place to conduct research?
At Kaiser Permanente we have access to rich, long-term data about Kaiser Permanente members. These populations of patients are similar to their communities in age, race, and ethnicity, and economic background. This means our results can generalize to populations beyond Kaiser Permanente and help inform the national and even global conversation about medication safety.
Which of your studies do you feel has had the biggest impact on maternal and child care?
A project I collaborated on investigated safety during pregnancy of the antibiotic trimethoprim sulfa, widely used for skin and urinary tract infections. Earlier studies suggested it might cause certain birth defects. Our team used data from 11 health care systems, including several Kaiser Permanente regions, to show that use of trimethoprim sulfa in the first trimester of pregnancy is not associated with those birth defects.
More recently, our team compared two ways of screening for gestational diabetes, which is high blood sugar during pregnancy. Using electronic health record data, we found that a newer, more aggressive screening method increased the proportion of women diagnosed with and treated for gestational diabetes, but did not lead to better outcomes for women or babies. Based on that study, Kaiser Permanente Washington revised guidelines about gestational diabetes screening.
---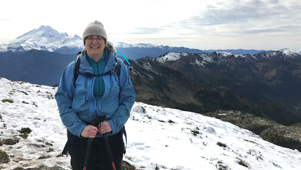 Dr. Sascha Dublin, hiking near Mount Baker.
---
What are you working on now?
A long-term focus of my research has been understanding the best approach to treat hypertension in pregnancy. Diseases involving high blood pressure affect more than 300,000 pregnancies in the United States annually. Knowing how to safely treat hypertension in these women will have a substantial clinical impact.
Working as a physician-researcher demands long hours. What do you do to relax and have fun?
I love to explore the Pacific Northwest, including hiking and camping in our amazing mountains. I really value time with my family including my two daughters, ages 11 and 13. Reading is a passion for us, and we enjoy making music together and also playing and watching volleyball. We're University of Washington fans—so go Huskies!