KPWHRI shares in $17 million grant to improve breast screening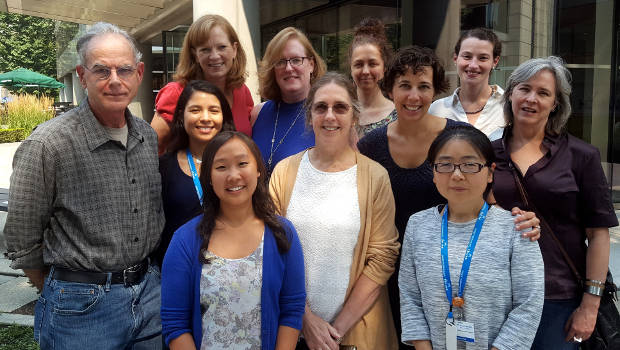 Left to right: Pete Frawley, Amanda Todakonzie, Diana Buist, Sharon Hwee, Tammy Dodd, Deb Seger, Mary Lyons, Erin Bowles, Hongyuan Gao, Mikael Anne Greenwood-Hickman, Ellen O'Meara.
National Cancer Institute support continues nation's largest collection of breast imaging data and funds three studies to personalize screening
Kaiser Permanente Washington Health Research Institute (KPWHRI) will receive $5.3 million over 5 years as part of a $17 million grant to continue the work of the Breast Cancer Surveillance Consortium (BCSC). Diana Miglioretti, PhD, KPWHRI senior investigator and University of California Davis (UCD) Dean's Professor of Biostatistics, is the co-leader.
"Our goals with this program project grant," she says, "are to study how a woman's risk factors like age, family history, and breast density can be used to help decide when, how often, and with which modalities women should get breast cancer screening and surveillance imaging."
"This funding supports the BCSC's long-standing mission," says KPWHRI Senior Investigator Diana Buist, PhD, MPH. "We're providing evidence and resources for women and health care providers to guide personalized decisions about breast cancer screening."
KPWHRI is the BCSC site for:
The Statistical Coordinating Center, co-led by Dr. Miglioretti at UCD and Research Associate Ellen O'Meara, PhD, at KPWHRI. Drs. Miglioretti and O'Meara also co-lead the Biostatistics and Data Management core.
A study co-led by Dr. Buist and Janie Lee, MD, MSc, of the University of Washington, to maximize the effectiveness of breast imaging for women who are breast cancer survivors.
Other KPWHRI researchers involved in the BCSC include Associate Investigator Karen Wernli, PhD, Assistant Investigator Yates Coley, PhD, and biostatisticians Weiwei Zhu, MS, Laura Ichikawa, MS, and Linn Abraham, MS.
Established in 1994, the BCSC is a network of mammography registries across the country with the nation's largest collection of data on breast cancer screening—currently 10.8 million breast imaging exams from 2.2 million women. More than 65,000 mammography, magnetic resonance imaging (MRI), and tomosynthesis exams from women screened as part of their ongoing care after breast cancer will support the project led by Dr. Buist.
With the new funding, the BCSC will increase the data available for research to 14 million breast imaging exams representing 2.6 million women, including 1.3 million exams from 275,000 women from the Kaiser Permanente Washington registry.
More information is available from the UC Davis news release.