UW/KPWHRI research team confers with King County organizations at its "Moving to Health" Summit, sparking new collaborations.
Are some aspects of your neighborhood better at encouraging you to walk or bicycle and eat healthy? Are they sidewalks, streetlights, walking paths, bike lanes, parks, public transit? Or a nearby supermarket, farmer's market, or community center? Researchers at Kaiser Permanente Washington Health Research Institute (KPWHRI) and the University of Washington (UW) are starting to address this question in King County through the Moving to Health project.
"Our interdisciplinary research team wants to ensure that whatever we discover will be useful to King County residents," says project co-lead David Arterburn, MD, MPH, a senior investigator at KPWHRI. "We want to engage the broader community to meet their needs and work together."
That's why, on January 28, 2019, the team held a daylong summit paid for by the Hilde and Bill Birnbaum Endowment, a fund established by these two founders of Group Health Cooperative to encourage health research. The Moving to Health team met with leaders of diverse local community and governmental organizations, including Bike Works, Cambia Grove, Communities of Opportunity, Duwamish Valley Safe Streets, HealthierHere, King County Metro, Public Health–Seattle & King County, Rainier Valley Greenways, Seattle Department of Transportation, and The Trust for Public Land.
---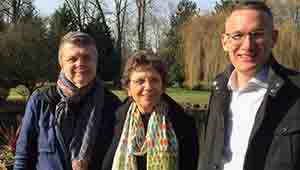 Adam Drewnowski of University of Washington School of Public Health, Anne Vernez Moudon of University of Washington Urban Form Lab, and KPWHRI Senior Investigator David Arterburn hosted the Jan. 28 Moving to Health Summit in Seattle.
---
Subtitled "Big Health Care Data and the Built Environment," the invitation-only Moving to Health Summit was "fantastic," according to project co-lead Adam Drewnowski, PhD, a professor of epidemiology at the UW School of Public Health who directs the Center for Public Health Nutrition.  "We made new collaborators today, and we now know that our research will more clearly address the needs of the consumers of our data."
A variety of researchers, an economist from Zillow, and data visualization experts from Schema Design and LiveStories gave presentations to describe the best way to convey information from the Moving to Health project about built environments to diverse audiences. Using precisely geolocalized "big data" from about 400,000 Kaiser Permanente members in King County over the past 12 years, the project will see how moving from a higher- to a lower-income neighborhood, or vice versa—or staying put—affects people's weight and whether they develop diabetes.
"The built environment can lead us to change our behavior, and that can affect our health," explained project co-lead Anne Vernez Moudon, Dr es Sc, a UW professor emeritus of urban design and planning at the UW Urban Form Lab. "We'll discover whether moving to a new neighborhood environment has a positive or negative health effect."
Listening to consumers of research
In sessions led by Paula Lozano, MD, MPH, attendees shared their reflections on the project, emphasizing what consumers of this kind of research need and want. In addition to serving as co-investigator on the project, Dr. Lozano is a senior investigator at KPWHRI and the Washington Permanente Medical Group's associate medical director for research and translation.
The consensus was that the Summit succeeded at spurring new collaborations, which could lead to new avenues of research, with possibilities for pursuing funding in addition to the $2.67 million over 5 years that the National Institute of Diabetes and Digestive and Kidney Diseases (NIDDK) has awarded to the project. High-level takeaways from the Summit include the following insights, which the team is now trying to incorporate into its work:
Studying neighborhoods requires neighbors. Supplement Moving to Health data with the lived experiences of people in the communities. Work with organizations that are already part of the community. These organizations, along with residents, will provide views that will help with understanding what researchers see in the data.  Provide funding to the community organizations to engage in the work.
If you don't measure it, you can't improve it. Consider using other data sources: school (absenteeism, attainment); Medicaid; employer transit programs; pollution/noise; redlining practices; and Zillow research data.
Use an equity lens. When people move their residence, it's often because unaffordability displaces them. Consumers of this kind of research want researchers to: disseminate findings to the communities, not only to other academics; focus on the strengths of communities; remember that houseless people have health outcomes, too—and should be included in research—and businesses are an important stakeholder in any work that seeks to modify the built environment.
"These kinds of meetings will be an ongoing part of this project," Dr. Arterburn promised. "We need to keep this dialogue going and engage employers, the business community, innovators, and entrepreneurs—and plan a dissemination strategy for all kinds of consumers of our results."
Grant R01DK11419 from the NIDDK of the National Institutes of Health supports Moving to Health.
By Rebecca Hughes