Researchers gather to address critical topics in aging and dementia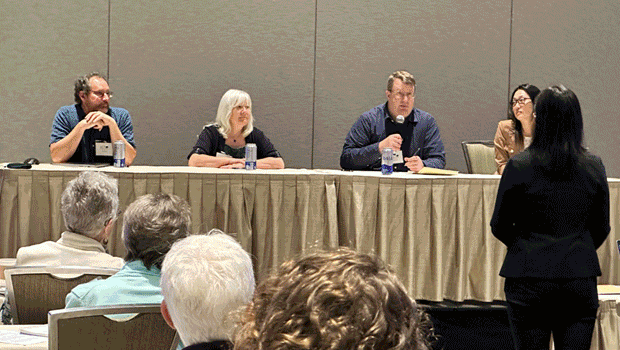 Compelling research presentations, Q&As, and standing ovations were plentiful at the 10th ACT Research Symposium. (Photo credits: Melissa Parson, Heidi Bornstein)
The ACT Research Symposium returns with an in-person scientific forum
The 10th Research Symposium for the Adult Changes in Thought (ACT) Study took place in May, drawing more than 160 attendees. With the theme "Sensory Impairment Across the Life Course for Dementia Prevention," the symposium highlighted research on the relationship between our senses and dementia development and helped spur new collaborations.
The ACT Study is a long-running epidemiological cohort study that has examined aging and brain health since its inception in 1994. The overarching aim of the study is to develop better ways to treat and prevent Alzheimer's disease and dementia. Thousands of adults who receive care at Kaiser Permanente Washington have enrolled in the study and are followed for decades, making the study a "living laboratory."
ACT scientists have the opportunity to conduct a rich spectrum of research, from studying basic neurobiology of the brain to exploring aspects of daily life that can shape the aging experience. To date, ACT researchers have identified many factors that affect brain aging including sedentary behavior, exercise, and cataracts. The study's principal investigators (PIs) are Linda McEvoy, PhD, from Kaiser Permanente Washington Health Research Institute (KPWHRI); Andrea LaCroix, PhD, from University of California, San Diego; and Paul Crane, MD, MPH, from University of Washington.
McEvoy, who has deep expertise in neuroscience and the epidemiology of aging, is new to ACT, having joined the study as the incoming PI. She was recently recruited to KPWHRI to lead the institute's aging research program. Attending the event for the first time, McEvoy remarked, "I am so energized by the hard work and enlightening science on display at the symposium, and I'm thrilled to be in this incoming role as the newest co-leader of ACT."
The first session of the symposium featured a panel of presentations by McEvoy, as well as Cecilia Lee, MD, MS, from University of Washington, and Aaron Seitz, PhD, from Northeastern University. McEvoy presented insights that leveraged her rich background in the integration of neuroimaging, health, and behavioral risk factors to describe mechanisms through which hearing and cognitive decline may be related. She was followed by Lee, who described how the eye serves as a literal and mechanistic window into the brain and can lead to new insights for understanding Alzheimer's disease. Closing the panel, Seitz shared innovative work he leads on mental fitness and cognition, including contemporary strategies for understanding auditory processing and aging. Participants engaged in a robust Q&A and discussion after the panel.
As the ACT Study and its data resources have grown, newer affiliated projects have become important parts of the science highlighted at the symposium. Researchers presented studies on activity and sleep, and the interplay of medications and cognitive decline. Other presentations included a study of lifestyle interventions that could reduce the risk of dementia and a study on novel approaches to diagnosing dementia using information from electronic health records.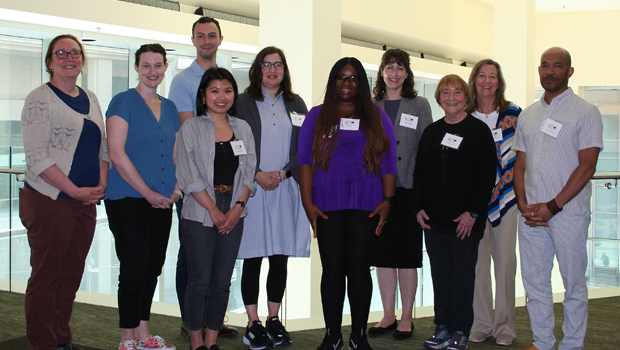 Symposium attendees included members of the ACT Study project team exploring links between brain health and behaviors during the 24-hour activity cycle (exercise, sedentary behavior, sleep). (Photo credit: Heidi Bornstein)

An important and related goal of ACT is to support early-career investigators in their work on aging and brain health. In that spirit, the symposium featured up-and-coming scientists throughout the event. Attendees were treated to compelling work from 4 post-doctoral researchers that included:
An examination of air pollution and dementia
How the process of autophagy — clearing out unwanted substances in the brain — may support cognitive integrity
The role of the cerebellum (a brain structure tucked in at the bottom of the back of the brain) as an understudied biological "player" in Alzheimer's development
The clinical implications of problems with balance and other issues linked to inner ear (vestibular) function as they relate to cognition
The presenters' backgrounds spanned rehabilitation science, environmental science, and neuroscience, illuminating the complexities and opportunities in the dementia research space.
ACT's research activities are underpinned by several research cores, which are designed to provide well-integrated support in a given subject that is relevant to the overall research goals. ACT research core leaders presented their work in neuropathology, neuroimaging, data and analytics, the life course, and a clinical core that supports study recruitment. By showcasing ACT's data resources and capabilities, the core leaders' presentations stimulated inquiries and discussion of future research collaborations.
Other highlights included a presentation by Paige Denison BS, BA, from Sound Generations, who spoke about the evidence-based interventions she has led with community-dwelling older adults. Also of note: a presentation by Raina Croff, PhD, from the Sharing History through Active Reminiscence and Photo (SHARP) study — an exciting project that fuses anthropology, Black culture, and community memory to support brain health.
Two long-standing traditions added the "fun factor." Every presenter received a standing ovation — since ACT has shown how important it is to get up on your feet regularly — and every presenter was encouraged to open their talk with a joke.
Leading up to the event, the ACT Study was featured in a Seattle Times article, sparking interest from the general public in attending the symposium. About 10% of the audience was composed of members of the public or volunteers from the ACT Study.
"Whether you are an ACT Study volunteer, a collaborating scientist, or a member of the study staff, we hope you've come away with a much deeper understanding of the breadth, depth, and boundless potential of this longstanding collaboration," said McEvoy. "All in all, this was a very special ACT symposium, and it was wonderful to be in person together after 4 years of remote collaboration."
Currently, the ACT Study is expanding to include more participants from additional geographic areas. To learn more about ACT, visit their website or read more on the KPWHRI website about the institute's entire aging research portfolio.
By Sarah Greene​​​​​