Addressing the crisis of youth suicide in America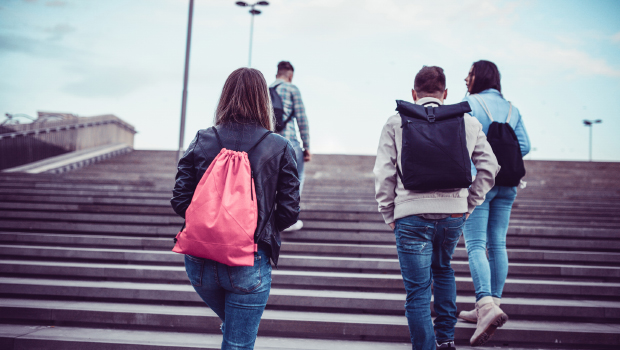 Rob Penfold, PhD, writes about suicide trends in children and adolescents and what researchers are doing about them
By Rob Penfold, PhD, Kaiser Permanente Washington Health Research Institute senior investigator
Suicide is the second leading cause of death for children and adolescents. Alarmingly, suicide deaths are rising both for teens and pre-teens. Between 2007 and 2019, the suicide death rate for children 8 to 12 years old increased 166%. For teens, the rate nearly doubled. And for every young person who dies by suicide, thousands make a suicide attempt.
---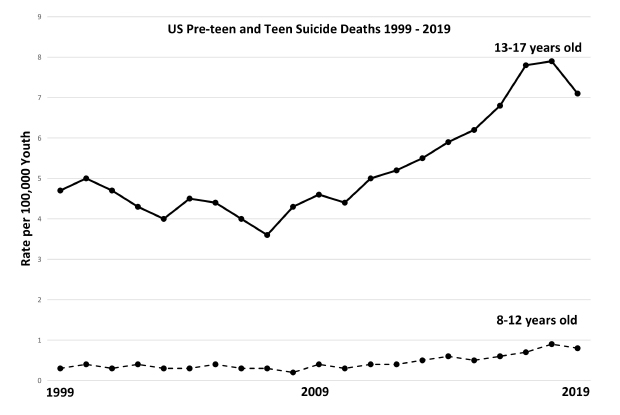 Trends in youth suicide. Source: Centers for Disease Control and Prevention
---
In the latest data published by the CDC (the Centers for Disease Control and Prevention) as part of the Youth Risk Behavioral Surveillance System, in the past year 18.8% of youth seriously considered making a suicide attempt, 15.1% made a suicide plan, and 2.5% made a suicide attempt requiring medical attention. With 49.4 million youth in the U.S., that corresponds to 1.24 million medically attended suicide attempts. These shocking figures obviously lead to questions about what is causing the rise — but the reasons are poorly understood. There has been much speculation about the role of smartphones and cyberbullying, but the link to population-level suicide rates is very weak. Even less well understood is exactly why suicide rates are increasing faster among Black than white youth. We need rigorous research to understand these trends and find effective ways to reverse them.
Identifying youth at risk of suicide
Much of our mental health research at Kaiser Permanente Washington Health Research Institute focuses on identifying people at risk of intentional self-harm and implementing prevention programs. We use the term "intentional self-harm" because most suicidal behaviors — especially among young people — are nonfatal. Our institute, with collaborators across the country, has been at the forefront of developing prediction models and using electronic health records to identify adults who might be at risk of suicide attempt and death. We continue to study how to improve risk-prediction models, including to ensure they are accurate and do not contribute to health inequities. To move our results into clinical practice, we've worked with partners at Kaiser Permanente Washington to introduce these and other suicide risk-prediction resources into clinical workflow to help physicians and other providers offer appropriate care to patients at risk of suicide. We didn't know if these prediction models would also accurately identify youth with suicide risk, though.
Building on the work in adults, our research team tested a machine learning algorithm to predict risk of suicide attempt in teens. Our study, just published in the Journal of Affective Disorders, reported that routinely collected information from electronic health records and health insurance claims can be used to predict adolescent suicide accurately. We found that prediction models already in use by health organizations such as Kaiser Permanente Washington can be reliably employed to identify adolescents in need of further evaluation for risk of suicide.
Our next steps are to apply what we've learned to advance research on youth suicide prevention. Our results on the accuracy of risk-prediction models in individuals aged 13 to 18 years will be useful for reaching out to potential participants in studies to find the best approaches for preventing adolescent and teen suicide. Our ultimate goals are to find out what approaches are effective and preferred by youth and their families.
We believe that youth suicide is preventable, and we hope to prove that. We and our colleagues in the Mental Health Research Network are working hard to make prevention even better to realize the goal of Zero Suicide. We are privileged to work with organizations such as NowMattersNow and Youth Move National that are leading young people to share their lived experience and help other young people thrive and fulfill their dreams. Together, we will succeed in that effort.
Our team for the study, "Predicting suicide attempts and suicide deaths among adolescents following outpatient visits" published in Journal of Affective Disorders, was Eric Johnson, MS, Susan Shortreed, PhD, Rebecca Ziebell, and Greg Simon, MD, MPH, from KPWHRI; Frances Lynch, PhD, and Greg Clarke, PhD, from Kaiser Permanente Northwest; Karen Coleman, PhD, MS, from Kaiser Permanente Southern California; Beth Waitzfelder, PhD, from Kaiser Permanente Hawaii; Arne Beck, PhD, from Kaiser Permanente Colorado; Rebecca Rossom, MD, MS, from HealthPartners; and Brian Ahmedani, PhD, from Henry Ford Health System.
For more on suicide including in youth, see information from the CDC, American Academy of Child and Adolescent Psychiatry, American Psychological Association, and Zero Suicide. For more on our research, see the Mental Health Research Network and KPWHRI Mental Health.