Mentoring and funding support researcher diversity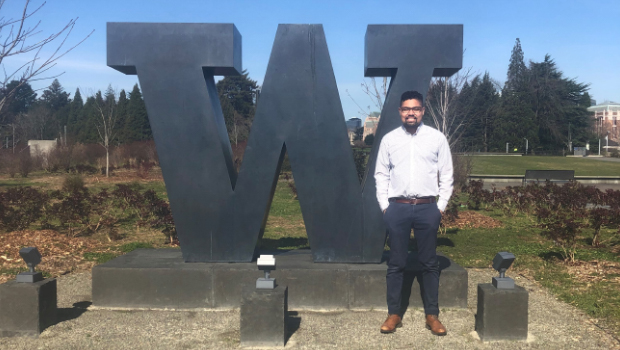 Kayne Mettert celebrates his acceptance to the University of Washington clinical psychology PhD program with a visit to the campus.
Kayne Mettert reflects on lived experience — and his drive to reduce stigma around mental health disorders
By Kayne Mettert (he/him), research specialist III at Kaiser Permanente Washington Health Research Institute
As a fine arts student at Indiana University in 2012, I couldn't have predicted that I'd be writing this now, about to enter the University of Washington clinical psychology PhD program. Reflecting on the invaluable experiences that brought me to KPWHRI and built my resolve for a career in development, evaluation, and implementation of interventions for mental health disorders, I see 2 turning points: a psychology class and a National Institute of Mental Health (NIMH) Diversity Supplement that led me to a choice: stay in Indiana with my family or move 2,257 miles to Seattle to do research.
As an undergraduate, I intended to pursue a degree in fine arts due to my aptitude for design and a yearning to engage my creative impulses. An introductory course taught me the theories and concepts of psychology and led me to a dual major in fine arts and psychology. Dr. Mary Murphy gave me a research assistant opportunity to study predictors of racial- and gender-based prejudices and biases. For my 2015 honors thesis, I explored the relationship between masculinity threat and anti-gay bias in my first study with research participants. I learned lessons such as the importance of well-crafted research questions and hypotheses to guide experimental design and measurement.
Also at Indiana University, I started working with Dr. Cara Lewis on evidence-based treatments for mental health disorders and measurement-based care. I learned about the significant barriers to implementation science, its few facilitators, and the complex processes for successfully introducing evidence-based interventions into real-world clinical care.
A turning point
After graduating in 2016, I applied for an NIMH Diversity Supplement to one of Cara's grants so I could continue as a research assistant in her lab. After submitting the application, Cara told me she had accepted a position at KPWHRI. When NIMH awarded me the supplement, I had a very difficult choice with 3 weeks to make it: Accept the supplement and join KPWHRI or stay with my family in Indiana with an uncertain future. Ultimately, the choice was clear, as was the road ahead. I drove across the country to work alongside Cara in August 2016.
My work at KPWHRI has resulted in publications on a range of topics, from studying the validity and reliability of implementation outcome measures in mental health settings, assessing measures of social determinants of health, and increasing access to mental health resources for adolescents, to encouraging risk-reduction strategies for the prevention of Alzheimer's and other chronic conditions in older adults. I've had a chance to contribute to the Learning Health System at Kaiser Permanente Washington to bring our research institute and care delivery system together to design, implement, and evaluate initiatives that benefit our members, our care teams, and the communities we serve.
I've continued to reflect on the current state of clinical practice and access to evidence-based mental health care. I think about my hometown of Fort Wayne, Indiana, where access to evidence-based treatment seems almost unattainable. I have seen friends, family, and colleagues back home impacted by substance use disorders with seemingly no access to meaningful care or mental health education.
Mental health advocacy
All of this inspired me to co-found a mental health advocacy group at KPWHRI with Janna Webbon, Jane Anau, and Dr. Julie Richards, funded by KPWHRI's small grants program. Our goal is increasing awareness and transparency of mental health issues among our colleagues to help reduce stigma in the workplace and promote a whole-person view to research. We're planning a pilot survey about perceived mental health stigma at KPWHRI and also to offer mental health resources. One theme that has come up again and again in our work is the power of self-disclosure and lived experience in research.
Through these empowering discussions, I've found passion and drive in bringing my own lived experiences to my research and recognizing the divide we often perpetuate between "clinicians and researchers" and "patients and participants." Helping found this group has shown me the power in sharing how my personal and professional motivations intertwine, which has further accelerated my drive to reduce stigma around substance use and other mental health disorders.
I'll bring this commitment to applying my lived experience and honoring the experiences of my collaborators, colleagues, and clients as I gain skills as a clinician and eventually lead my own substance use research. I am so excited to join Dr. Mary Larimer's lab and the UW Clinical Psychology program in the fall.
I would never have gotten to this point without the outstanding support, collaboration, and encouragement from the wonderful people at KPWHRI. My time at the institute has given me a newfound appreciation of research and for a collaborative approach to solving complex problems for the members we serve. I love the project teams I work with and my time here has been so important and special to me. I hope I can continue to collaborate with many of the awesome people I have met at KPWHRI in the future and know that our institute will continue to be a beacon of scientific advancement.
Among Kayne's other KPWHRI collaborators and mentors are Nora Henrikson, PhD, MPH, Rob Penfold, PhD, Eric Larson, MD, MPH, Dori Rosenberg, PhD, MPH, Ben Balderson, PhD, Sascha Dublin, MD, PhD, Claire Allen, MPH, Katie Coleman, MSPH, Paula Lozano, MD, MPH, and Emily Westbrook, MHA.
Read Kayne's publications here and watch for more that are in review.
Allen, et al., 2021
Yeung, et al., 2021
Lewis, et al., 2021
Dorsey, et al., 2021
Stanick, et al., 2021
Mettert, et al., 2020
McHugh, et al., 2020
Weiner, et al., 2020
Allen, et al., 2020
Henrikson, et al., 2019
Stanick, et al., 2019
Lewis, et al., 2018
Lewis, et al., 2018