Patient collaboration sparks care innovations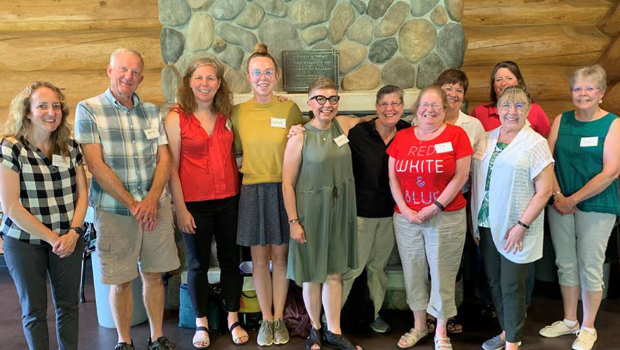 Leah Tuzzio, far left, and Karen Wernli, third from left, with members of their co-design team
By partnering with patients, KPWHRI researchers developed 2 new interventions to boost lung cancer screening
An openness to the unexpected can lead to real-world solutions when partnering with patients and other stakeholders to develop health care interventions.
Researchers Karen Wernli, PhD, and Leah Tuzzio, MPH, know this first-hand, having adopted human-centered design (HCD) methods to collaborate with patients in several studies — most recently to address barriers to annual lung cancer screening.
"I think it can be hard for researchers to allow a process to unfold without more control over the process," says Dr. Wernli, an associate investigator at Kaiser Permanente Washington Health Research Institute (KPWHRI). "But HCD approaches work best with innovation and without constraint."
Putting patient needs at the forefront
Human-centered design is an approach to problem-solving that focuses on exploring and understanding the needs and preferences of the people involved. In health research, this means involving patients, clinicians, and other stakeholders as active collaborators in activities such as identifying research questions and developing studies and interventions.
"HCD helps researchers develop patient-centered, meaningful research questions by building these questions for people and — most importantly — building them with people," says Tuzzio, a KPWHRI qualitative and design researcher.
In the recent lung cancer screening study, this meant collaborating closely with patients who were eligible for screening.
3 parts, 1 goal
The primary goal of this preliminary study, published in The Permanente Journal, was to develop relevant, meaningful interventions to improve adherence to annual screening, which would then be tested in a randomized study.
To achieve this, the researchers adopted a mixed-methods approach that included 3 parts:
An analysis of screening adherence among Kaiser Permanente Washington members
Interviews with KPWA organizational and clinical stakeholders
Co-design workshops with KPWA members who were eligible for lung cancer screening
While the first 2 parts illuminated the current state of annual screening as well as the delivery system context and challenges, the third provided valuable insights on the barriers to screening adherence and how to improve screening from a patient's perspective. Wernli and Tuzzio led 4 co-design workshops that included 7 patients and the study team. These sessions provided a creative space for participants to share ideas and develop solutions through "blue sky thinking," hypothetical scenarios, and storyboarding, among other techniques.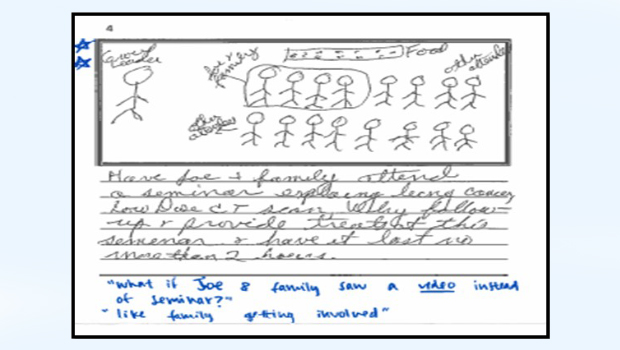 A storyboard created during the co-design workshops

After analyzing the data from the 3 parts of the study, the research team identified 2 promising interventions:
A plan for increasingly intense "stepped" reminders about repeat screening, which would better engage patients and also be feasible for the health care system to implement
A patient voices video to improve knowledge and understanding about maintaining annual screening
The development of the video, in particular, illustrates the importance and value of co-designing with patients. This intervention evolved organically as workshop participants identified common barriers to screening and brainstormed ways to help overcome them. The short video will address 2 key barriers: gaps in awareness about repeat screening and fears of cancer being detected. Its messaging and visuals will also reflect 2 facilitators that participants identified as encouraging screening: support from loved ones and patient testimonials. (A prototype of the video is available here. The team is currently working on a finished version.)
"Without the co-design workshops, we would not have this patient-informed intervention," Tuzzio says. "Working with patients identified that there was a crucial gap in understanding that screening for lung cancer was not a one-time event, but an ongoing practice. We subsequently received input from approximately 200 Kaiser Permanente members on the messaging and visuals of the video prototype, which will inform the final video we will test in the research study."
Advice and insights for co-designing with patients
Reflecting on their experience collaborating with patients using human-centered design approaches, Wernli and Tuzzio offer the following advice.
Engage stakeholders and health care-minded HCD researchers early: Ideally, your co-design stakeholders and HCD researchers will be involved before you define a research question or intervention. Otherwise, you may find that your planned approaches don't integrate into real-world health care settings as well as you might hope.
"For example, the intervention might be serving a different purpose than you defined or not be an appropriate solution to your problem," Tuzzio says. "HCD researchers can sort this out."
Be open to the process — and openminded about possible solutions: "For the lung cancer screening study, I came into the process excited to collaborate with HCD researchers and patient partners in developing interventions," Wernli says. "However, I did not have a specific goal in mind in terms of what the solution would be."
Trusting in the process and where it leads you are key, especially when the direction and outcomes aren't obvious. Notes Wernli: "While we developed 2 interventions, these ideas and solutions came late in our process after synthesizing the data."
Think innovatively to incorporate HCD within multiple facets of your research: While the HCD component of the lung cancer screening study focused primarily on developing interventions, HCD can be useful in other areas of study design and process as well. For example, it might provide insight on how to recruit participants to a study and what materials to provide them.
Wernli and Tuzzio are now turning their attention to studying the impact of both the video and stepped-reminder interventions on annual lung cancer screening, with a randomized controlled trial funded by the National Cancer Institute planned to start this summer. The study is expected to take 5 years to complete.
Notes Wernli: "Because of our collaboration with our HCD partners in the preliminary study, we now have a great foundation for assessing and demonstrating improvement in care delivery based on these patient-centered interventions."
By Sophie Ramsey