Research overview
Health is about more than health care. Where people live can have a profound influence on daily choices that can promote population health — or harm it. Kaiser Permanente Washington Health Research Institute (KPWHRI) scientists work to improve and sustain community conditions that support health and equity.
At KPWHRI's Center for Community Health and Evaluation (CCHE) we are working with foundations, nonprofit organizations, and government agencies to evaluate their community health improvement initiatives. A few examples:
Former CCHE director Allen Cheadle led a 10-year evaluation of Kaiser Permanente's efforts to prevent obesity, including projects in more than 60 communities that promoted healthy eating and active living, largely through policy and environmental changes.
CCHE principal investigators Emily Bourcier and Lisa Schafer are leading an evaluation of the Strong, Prosperous, and Resilient Communities Challenge (SPARCC) — an ambitious, multifunder initiative to improve the way changes in the built environment advance racial equity, health, and climate resilience in 6 U.S. regions.
CCHE leads the evaluation of several initiatives to strengthen health care safety net organizations in California, including programs addressing trauma-informed care, chronic disease management, and population health management.
CCHE serves as the evaluation partner for Kaiser Permanente Washington's (KPWA) Community Health and Benefit program, providing evaluation and strategic support for a wide range of regional initiatives, including built environment improvements in the community, school-based health centers, and healthy eating/active living programming for teachers. Beyond CCHE, other KPWHRI researchers are exploring opportunities to improve population health by creating healthier communities. Among these efforts are:
Answering questions about what makes a healthy environment gives policymakers, urban planners, and others the information they need to create healthier communities in the future.
Recent Publications on Healthy Communities
Guo M, Brar Prayaga R, Levitz CE, Kuo ES, Ruiz E, Torres-Ozadali E, Escaron A. Tailoring a text messaging and fotonovela program to increase patient engagement in colorectal cancer screening in a large urban community clinic population: Quality improvement project. JMIR Cancer. 2023 Aug 10;9:e43024. doi: 10.2196/43024. PubMed
Brown MC, Hawley C, Ornelas IJ, Huber C, Beat L, Thorndike AN, Beresford S, Howard BV, Umans JG, Hager A, Fretts AM. Adapting a cooking, food budgeting and nutrition intervention for a rural community of American Indians with type 2 diabetes in the North-Central United States. Health Educ Res. 2022 Nov 7;cyac033. doi: 10.1093/her/cyac033. Online ahead of print. PubMed
Miller-Rosales C, McCloskey J, Uratsu CS, Ralston JD, Bayliss EA, Grant RW. Associations between different self-reported social risks and neighborhood-level resources in Medicaid patients. Med Care. 2022 Aug 1;60(8):563-569. doi: 10.1097/MLR.0000000000001735. Epub 2022 May 30. PubMed
Greenwood-Hickman MA, Walker R, Bellettiere J, LaCroix AZ, Kim B, Wing D, Richmire K, Crane PK, Larson EB, Rosenberg DE. Associations between perceived neighborhood walkability and device-based physical activity and sedentary behavior patterns in older adults. J Aging Phys Act. 2021 Aug 13:1-9. doi: 10.1123/japa.2020-0387. [Epub ahead of print]. PubMed
Brown MC, Marciniak CM, Garrett AM, Gaebler-Spira DJ. Diet quality in adults with cerebral palsy: a modifiable risk factor for cardiovascular disease prevention. Dev Med Child Neurol. 2021 Oct;63(10):1221-1228. doi: 10.1111/dmcn.14913. Epub 2021 May 6. PubMed
our cche team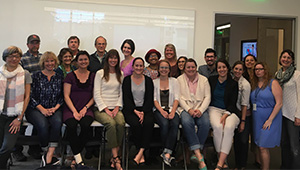 Much of the research in this area is conducted by our team at the Center for Community Health and Evaluation. For a complete list of these individuals, click
HERE.
Researchers in Healthy Communities
Affiliate researchers in healthy communities
David Grembowski, PhD
Professor, Health Services and Oral Health Sciences
University of Washington