Research overview
Health is about more than health care. Where people live can have a profound influence on daily choices that can promote population health — or harm it. Kaiser Permanente Washington Health Research Institute (KPWHRI) scientists work to improve and sustain community conditions that support health and equity.
At KPWHRI's Center for Community Health and Evaluation (CCHE) we are working with foundations, nonprofit organizations, and government agencies to evaluate their community health improvement initiatives. A few examples:
Former CCHE director Allen Cheadle led a 10-year evaluation of Kaiser Permanente's efforts to prevent obesity, including projects in more than 60 communities that promoted healthy eating and active living, largely through policy and environmental changes.
CCHE principal investigators Emily Bourcier and Lisa Schafer are leading an evaluation of the Strong, Prosperous, and Resilient Communities Challenge (SPARCC) — an ambitious, multifunder initiative to improve the way changes in the built environment advance racial equity, health, and climate resilience in 6 U.S. regions.
CCHE leads the evaluation of several initiatives to strengthen health care safety net organizations in California, including programs addressing trauma-informed care, chronic disease management, and population health management.
CCHE serves as the evaluation partner for Kaiser Permanente Washington's (KPWA) Community Health and Benefit program, providing evaluation and strategic support for a wide range of regional initiatives, including built environment improvements in the community, school-based health centers, and healthy eating/active living programming for teachers. Beyond CCHE, other KPWHRI researchers are exploring opportunities to improve population health by creating healthier communities. Among these efforts are:
Answering questions about what makes a healthy environment gives policymakers, urban planners, and others the information they need to create healthier communities in the future.
Recent Publications on Healthy Communities
Tandon PS, Zhou C, Chan NL, Lozano P, Couch SC, Glanz K, Krieger J, Saelens BE. The impact of menu labeling on fast-food purchases for children and parents. Am J Prev Med. 2011;41(4):434-8. PubMed
Mouldon V, Cook AJ, Ulmer J, Hurvitz PM, Drewnowski A. A neighborhood wealth metric for use in health studies. Am J Prev Med. 2011 Jul;41(1):88-97. PubMed
Aggarwal A, Monsivais P, Cook AJ, Drewnowski A. Does diet cost mediate the relation between socioeconomic position and diet quality? Eur J Clin Nutr. 2011 Sep;65(9):1059-66. doi: 10.1038/ejcn.2011.72. Epub 2011 May 11. PubMed
Chen R, Carrillo M, Kapp J, Cheadle A, Angulo A, Chrisman N, Rubio R. Partnering with REACH to create a "diabetes-friendly" restaurant: a restaurant owner's experience. Prog Community Health Partnersh. 2011;5(3):307-12. PubMed
Cheadle A, Bourcier E, Krieger J, Beery W, Smyser M, Vinh DV, Lessler D, Alfonsi L. The impact of a community-based chronic disease prevention initiative: evaluation findings from Steps to Health King County. Health Educ Behav. 2011 Jun;38(3):222-30. PubMed
our cche team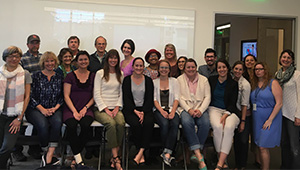 Much of the research in this area is conducted by our team at the Center for Community Health and Evaluation. For a complete list of these individuals, click
HERE.
Researchers in Healthy Communities
Affiliate researchers in healthy communities
David Grembowski, PhD
Professor, Health Services and Oral Health Sciences
University of Washington